New horses for sale
Please choose one of our new horses in the Rocking Horse Shop
---
Buyer's Guide
Buying a rocking horse and what to consider
Very few heirlooms even begin to compare with the beauty and grace that a fine wooden rocking horse has to offer.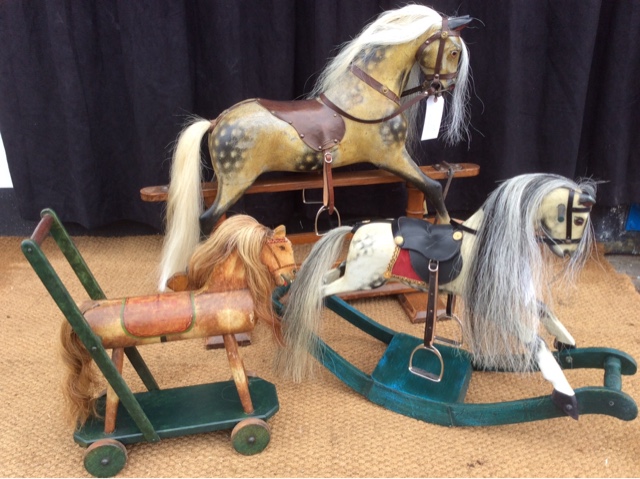 We at the Rocking Horse Works restore hundreds of rocking horses every year, most of them dating 60-100 years old.
We can tell you first hand that each and every one comes to us with a heart warming story of childhood memories spent with their beloved loyal steed.
The joy a rocking horse brings to a family is passed on through generations, in fact, many of the rocking horses we restore are about  to be handed down to a new generation in the family, new grandchildren perhaps. 
We instil in them a new lease of life and send them on their way for another round.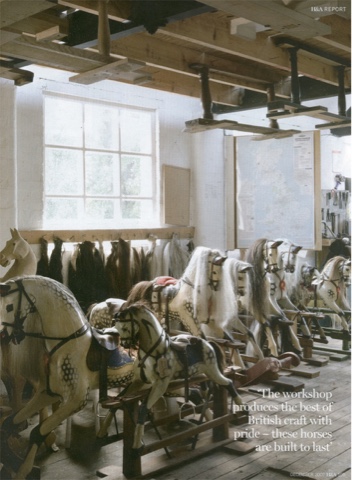 When buying a rocking horse, there are many things to consider. 
Its important to take your time, after all, the horse could live on in your family for hundreds of years. 
There are many variables to think about, here are some useful pointers to consider ;
·      Purpose
·      Cost
·      Size
·      Safety Swing or Bow Rockers
·      Old or New
·      Restored or un-restored
Purpose
Is your chosen horse destined to be a child's toy? Would you like it to become a family heirloom?
Perhaps it is purely a decorative item?
Suprisingly many of our customers are simply treating themselves. Many of our older customers come to us with stories of an undying childhood desire to have their very own rocking horse, it's a pleasure to grant a life long wish. 
Perhaps you are you looking for an investment, a horse that will accumulate in value?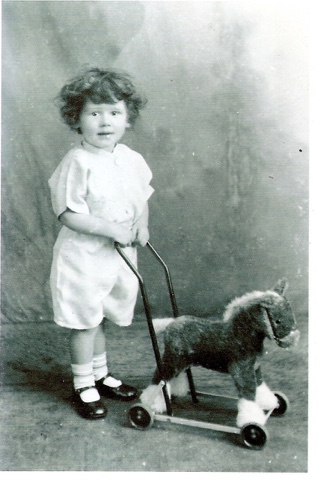 Cost
The reason for your purchase of a rocking horse will inevitably influence how much you want to spend.
Perhaps decide on a budget, before visiting or approaching a Rocking Horse maker or dealer, decide in advance if you have any leeway; to ensure you don't miss out on the perfect horse for you, and at the same time don't overspend and regret at some later date.
We at the Rocking Horse Works are very flexible and accommodating to your budget
In general, the bigger the horse, the bigger the cost and prices tend to be reflected in condition, quality of carving and overall construction. 
Be careful to avoid a cheap Chinese import, while the prices are remarkably low, these horses are machine made and not built to last.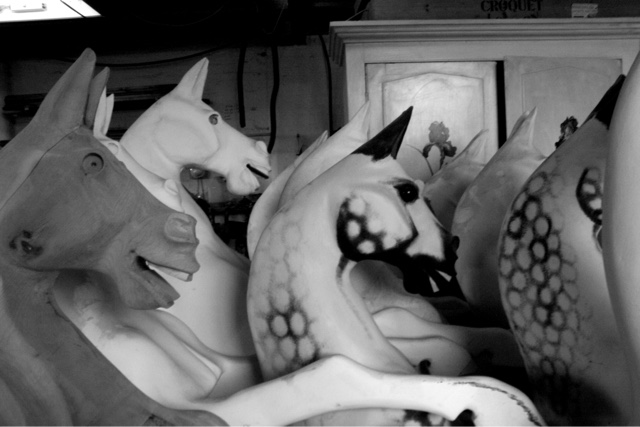 Size
Traditional wooden rocking horses tend to come a range of sizes from small to extra large. Where in your home will your new friend live? Will the horse reside in your child's nursery/ bedroom? Or somewhere else in the house? 
You may already have spot in mind destined to be filled by a rocking horse, if so, it is important to remember that your horse will need a few feet front and back in order to swing fully.  Make a note of your measurements and decide which size would suit your home and purpose best.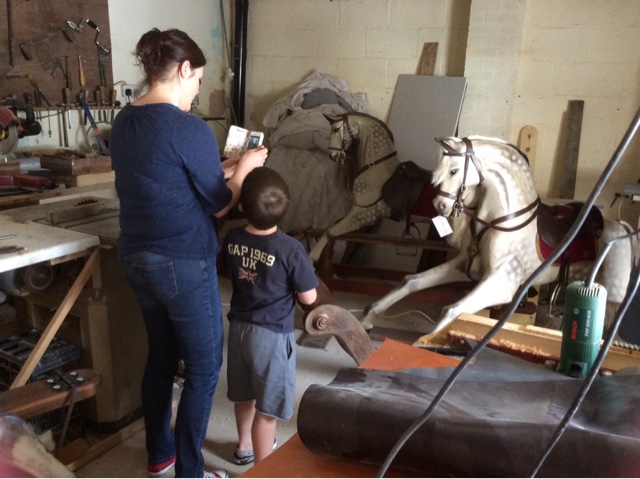 Safety Stand or Bow Rocker.
Most people, when conjuring up images of a rocking horse think first think of the traditional Christmas card picture of a dapple grey on a beautiful set of green or red Bow Rockers however, since 1880, the classical bows have slowly became replaced by the new 'Marqua' safety stand.  Whilst Bows are generally considered more aesthetically pleasing (think back to the Christmas card picture) they do demand a little more room and have the tendency to move over the floor with use in the way that a rocking chair might. 
'Marqua' or safety stands, as the name suggests, are generally considered safer than bows.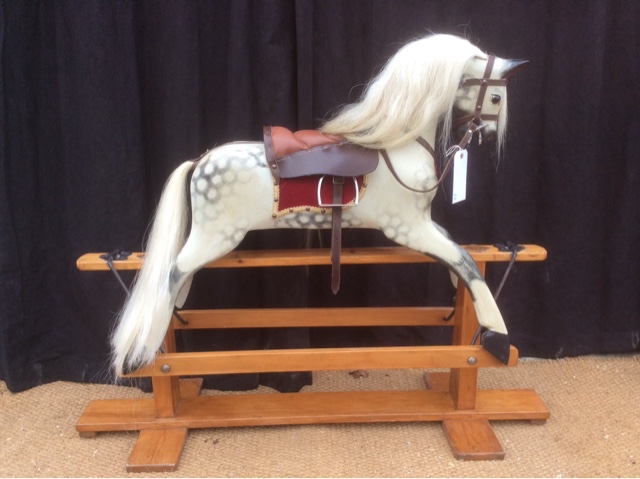 Old or New
If you are buying a rocking horse as a gift we would generally advise you to buy brand new.
There are many reasons for this, but most importantly, each and every rocking horse is tailor made to your specifications giving you an endless choice in colour schemes, hair colour, leather colour, painting etc at no extra cost.
Its this customisation that makes the the rocking horse truly a unique one off, making your dreams come to life!
Some customers even opt for unique carving details such as a carved mane and tail instead of horse hair though this sort of customisation does cost more. 
Buying a rocking horse that has been uniquely designed and crafted just for you, is an excellent opportunity to begin the tradition of passing down a truly unique family heirloom. 
For an even more personalised experience we at the rocking horse works also offer a 'Time Capsule' service whereby a small hollow secured with a locked hatch is made in the belly of the rocking horse (out of sight) in here you can leave written letters, small ornaments, toys or any precious items you may want to pass down. 
When restoring horses we quite often find victorian toys in the hollow of the horse, marbles for example though tin soldiers and small dolls are common too. It was this discovery that inspired us to start our popular time capsual service. 
Along with the unique customisation opportunities, buying a new horse guarantees its strength and vitality.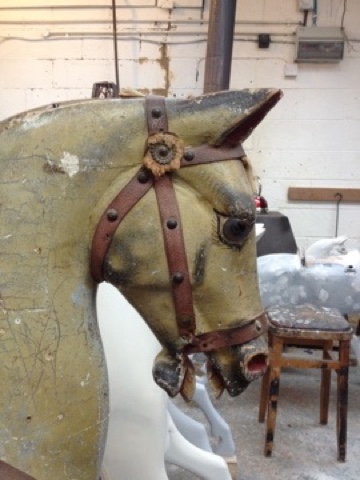 If, however you are buying for simple ornamental reasons and do not intend the horse to be ridden you may also consider buying an old or antique horse. 
It is true that very few rocking horses carved today compare with the fine quality of the old Victorian and Edwardian makers had to offer. Old rocking horses carry un-mistakable character and as such come with blemishes. Etc. cracking and discolouration of paint, cracks in the gesso, warn and discoloured leather and tack. 
The Rocking Horse Works have a beautiful collection of antiques, hand picked by us for their exceptional quality and beauty. 
Our stock changes frequently, so fast in fact that we don't always have time to update our website so please get in touch if you would like to know about the current makers we are stocking. 
In general we always have an Ayres, Lines Brothers and plenty of Collinsons on offer. 
RESTORED OR UN RESTORED
Restoring an Antique Rocking Horse and how to go about it!

Once you have found, purchased, or are already the proud owner of a special antique rocking horse; It is then important to decide how to go ahead.
Whether to: Restore, the horse in question, totally authentically, to make the horse look exactly as it would have done on the day of manufacture, This can be done with a subtle ageing effect to retain the horse's antique patina.
Alternatively: You may want a completely contemporary and fresh new look.
These decisions should, to an extent, be influenced by the origins and history of the Rocking Horse.
For example: A very collectable, rare and valuable F.H AYRES Rocking Horse, should be truly , sympathetically and authentically restored, maintaining throughout the original character of the horse ,in homage to the expert carvers of the 19th century, and also to maintain accurate heirloom value.
However, if you have in your ownership, or are thinking about purchasing, for example something like a more commonplace Collinson Rocking Horse. These horses were made in profusion  by Collinson Brothers ltd. of Liverpool,between 1910 and the 1970's These Rocking Horses, do in fact have there own charm, and have been frequently been used in film sets and on LP covers.  You may wish to retain the original features of a Collinson Rocking Horse, or perhaps use the horse as a blank canvas, and give him a whole fresh new look, anything is possible! 
Please get in touch for free, friendly , personal, and expert advice.
We are very happy to assist and guide you, we offer free valuations, and can in most cases identify the Rocking Horse's original manufacturer and age.
GOOD LUCK, And welcome to the wonderful world of ROCKING HORSES.
Please contact Alison at THE ROCKING HORSE WORKS, 
Email : alison@rockinghorseworks.co.uk Phone: 01630 653 194
Write to us : Tyrley Chapel, care of Tyrley Lock Cottage, Tyrley, Market Drayton, Shropshire TF9 2AQ
Or feel free to visit us at out exciting workshop and showroom where you can see examples of all horses mentioned, also see old horses being restored and new ones being created