Rocking Horse Restoration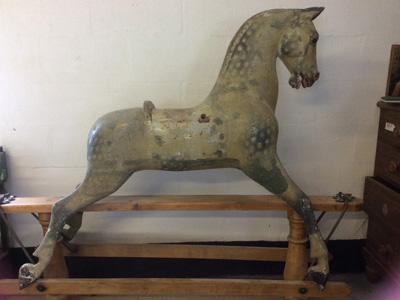 When that ancient and decrepit old rocking horse is finally retrieved from the darkest recesses of the loft, we can offer it a complete restoration service.
Our comprehensive fund of experience, reference and original working techniques enable us to sympathetically rebuild and restore your rocking horse to the level you require.
A poor restoration can lose a rocking horse much of its charm and value, so should you own, or decide to purchase one, please contact us for information sheets and free advice on the best way to authentically bring the old creature back to its former glory.
Rocking Horse Works never say "No" to a poorly horse. Whether your old friend has been wasting away in a damp shed, or forgotten in an attic, we can have your horse back at pride of place in your home. From traditional wooden Victorian rocking horse to fluffy Pegasus and skin covered horses to fibreglass Haddon horse, no job is too big or too small.
For a free quote on a restoration for your rocking horse please don't hesitate to get in touch with Alison or Steve on 01630 653194 or Email us at alison@rockinghorseworks.co.uk
Read more about our restoration process HERE